You are here: Products >
Screw Pump
■

MP Multiphase Pump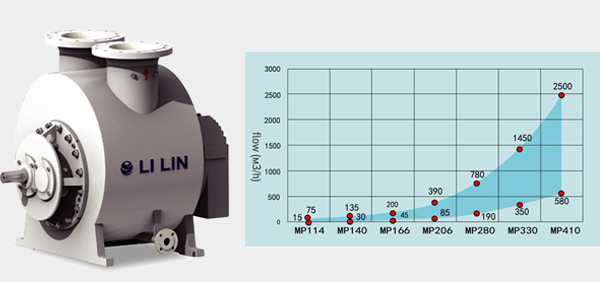 Performance Parameters
Flow: 15~2500 m3/h
Inlet pressure: ≤1. 6MPa
Outlet pressure: ≤6. 0MPa
Medium temperature: -20~120℃
Gas content: ≤98%
Revolving speed: 500~1800 r/min
Characteristics: Long service life, low failure rate and special structure design guarantee safe operation of the pump set under conditions of 98% gas content.
Application: It is used for oil, gas and water three-phase mixed transportation, and can operate normally and safely under conditions with higher gas content and large pressure.
■

HM Twin Screw Pump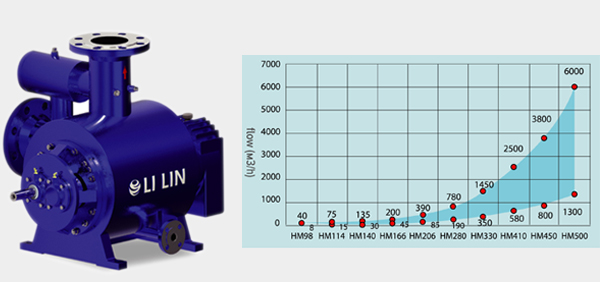 Performance Parameters
Flow: 8~6000 m3/h
Inlet pressure: -0. 08~0. 8MPa
Outlet pressure: 0. 1~4. 0MPa
Medium temperature: -20~120℃
Medium viscosity: 1~100000 mm2/s
Revolving speed: 500~1800 r/min
Characteristics: Strong self-sucking capability, free from pulsation, low noise, no shear function to medium, various structural forms meet different operating conditions.
Application: It may be applied to conveying of various mediums such as oil products, asphalts, and liquid chemical raw materials and grease.
■

The supercharging system of Lilin double-screw pump is superior in the following aspects:
Failure early warning
The unattended detecting system can transmit all operating data in the supercharging system in the real time, and may issue warning in case of abnormalities so that on-site personnel could handle the problem in time and prevent from serious accident.
Safety and high efficiency
The supercharging system integrates machines, hydraulic pressure, instruments and electrical control and make pre-arranged planning for possible abnormalities to reduce failure rate and improve operating service life of machine unit.
Remote monitoring
The unattended detecting system can detect operating status of all equipment and send the data to control room remotely to reduce tour inspection frequency and reduce workload of personnel.
Convenient maintenance
Provide professional tooling, improve disassembly/assembly efficiency, and reduce technical level of after-sales personnel.
Space saving
Systematic planning, overall layout, and optimized pump set, pipeline, valve and instrument connection plan can reduce installation space.
Diversified structures
Change layout of pipeline, instruments and pump sets according to user demands to meet field application conditions.